Introduction : In today's fast-paced world, time is of the essence, and convenience plays a significant role in our daily lives. When it comes to grooming, many individuals seek portable and efficient solutions to stay well-groomed, no matter where they are.
The Mini Shave, a revolutionary portable electric shaver, has become the epitome of on-the-go grooming convenience.
In this article, we will explore the features and benefits of this innovative gadget that has taken the grooming world by storm.
Experience Smooth Shaves on the Go with this Portable Electric Shaver 
Why Choose MiniShave?
Time-Saving: Say goodbye to lengthy grooming routines with MiniShave's efficient performance.
Hassle-Free: No more carrying bulky grooming kits; MiniShave takes care of your grooming needs with simplicity.
Confidence Booster: Always be ready to impress with a fresh and well-groomed appearance, whether you're in a boardroom or exploring a new city.
Upgrade your grooming routine today with MiniShave! Embrace the freedom of on-the-go grooming and experience a new level of convenience and style.
Now, Say goodbye to bulky grooming tools and hello to the convenience of the Mini Shave.
Order Now and enjoy our limited-time offer with free shipping!"
The Mini Shave stands out for its compact and lightweight design, making it a must-have accessory for frequent travelers, busy professionals, and anyone on the move. Its ergonomic shape ensures a comfortable grip during use, while its small size easily fits into your pocket, purse, or travel bag without taking up much space.
Despite its size, the Mini Shave boasts a powerful motor that delivers efficient grooming performance. Its sharp blades glide effortlessly across your skin, providing a smooth and precise shave every time.
Whether you need a quick touch-up before a meeting or a clean shave during your daily commute, the Mini Shave is up to the task, ensuring you always look your best without the hassle.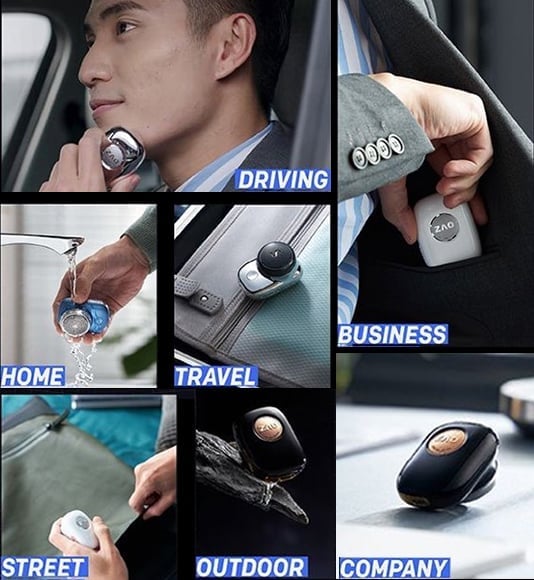 USB Rechargeable Battery : Worried about changing batteries constantly? Fret not! The Mini Shave comes equipped with a built-in USB rechargeable battery. This feature eliminates the need for disposable batteries, saving both the environment and your wallet.
Simply plug it into a USB port or a power bank, and you're good to go. The long-lasting battery ensures that the Mini Shave will be your reliable grooming companion throughout your travels.
Versatility and Multi-functionality : Despite its primary function as an electric shaver, the Mini Shave offers more than meets the eye. Some models come with additional grooming attachments, such as nose and ear trimmers or precision detailing tools, expanding its utility beyond a simple shaver.
This versatility makes it an all-in-one grooming solution for various needs, catering to the modern man or woman seeking convenience and efficiency.
Easy Maintenance and Cleaning :
Maintaining the Mini Shave is a breeze. The detachable blade system allows for quick and straightforward cleaning. Rinse the blades under running water and let them air dry for ready-to-use grooming anytime.
With minimal maintenance requirements, you can focus on your grooming routine without worrying about time-consuming upkeep.

Conclusion :
In conclusion, the Mini Shave has redefined on-the-go grooming convenience. Its compact design, portability, and USB rechargeable battery make it the ideal grooming tool for those with a fast-paced lifestyle. Efficiency, versatility, and easy maintenance add to its appeal, allowing you to groom with ease wherever life takes you.
Upgrade your grooming routine and embrace the convenience of the Mini Shave. Embody confidence and style, regardless of your location or schedule. With the Mini Shave in hand, you'll never have to compromise on your appearance again. Experience the future of grooming today!